Blue Ribbon K9 - Las Vegas Dog Training
The Humane Dog Trainers Of Las Vegas
Dog Obedience Training
What to expect...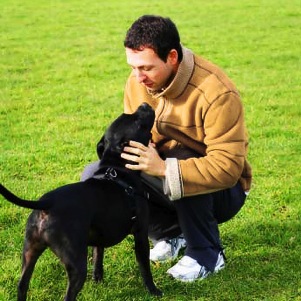 This class is where we build the foundation for you and your dog for years to come. This class will give you greater control over your dogs behavior and the skills necessary to stop disobedient behavior before it gets out of control. We also teach you how to read your dogs body language.
Who is dog obedience training for?
Training is for all breeds of dog at any age six months or older. As long as your dog can see and walk, this class is for you. This is the type of training that makes the difference between having a wonderful family pet that the whole family can enjoy or a real knucklehead. Although amusing as a puppy, disobedient behavior if left unchecked will quickly snowball out of control, leaving you and your dog frustrated.
What the average person can expect to learn in our obedience training course?
We give you 6 or 10 private lessons with a "One-On-One" approach. We have learned through the years that the "One-On-One" approach in rapid succession gets the best results. Our training system is unique to an industry which generally promotes large group classes, where you feel lost in the crowd. We feel that our one-on-one training system provides the results you deserve.
We will teach you to be your dogs pack leader and for multiple dog households we will teach you how to let all your dogs know where they are in the pack hierarchy.
We use positive reinforcement methods that teach you how to communicate with your dog. These methods are proven to work and will not hurt your dog.
We will teach you how to walk your dog the correct way, without getting pulled down the street.
We will show you how to get him to sit, stay, and come to you, off leash under distraction the first time.
We will teach you hand and voice commands.
We will show you how to get him to down, down stay, and the recall command.
We will show you leash techniques that work for your individual dog.
We show you how to get the dogs interest on you and not what is going on around him.
We teach you effective yet simple methods to correct behavior problems, such as: chewing, barking, fighting, etc.
You will be happy to know that we at Blue Ribbon K9 Dog Training Center can save you from this bundle of fur and energy before you have to have yourself committed to the nearest mental institution.
What we don't do.

We don't use harsh knee-jerk methods like electric collars that shock your dog into submission.
We don't have large classes with 6, 10, even 20 dogs all trying to learn the same skill from one trainer, one day per week. We've discovered that although these large classes tend to cost a bit less, it takes twice as long for your dog to learn a skill. As there are all the distractions to deal with. Some who like large classes say that it is good for the dog to learn with distractions. This is true but only much later, and only after your dog already has all the basic commands down. We do provide distractions in our classes but only after your dog learns the basics and at a graduated rate.
We prefer offing you classes at least two days per week, because we find that the learning retention rate of your dog is much higher when he/she leans this way. Additionally only attending class one time per week could put you at risk for teaching him something improperly the entire week, then you get to class and now need to start all over again. We encourage you to take two lessons per week. This rapid training method enables us to correct any inconsistencies immediately. It also helps the dog learn faster and retain what he has learned better, as it is always fresh in his mind.
Once basic obedience is learned you will be able to really enjoy your dog, and you'll be able to take him anywhere at anytime and be a true "Pack Leader".
How are we different?
We will be teaching you (and your entire family, if necessary) the techniques and YOU will communicate them to your dog. This results in greater results long term.
What happens if I don't train my dog?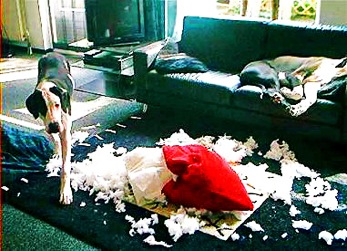 If you don't train your dog he will become hyper, confused, and disobedient.
He will assume that he is the pack leader of your entire family.
He will loose respect for you and assume that you are beneath him in the pack order.
Prerequisites
• A dog in good health
• Current on all vaccinations
Free training and behavior evaluations!
Site Last Updated: March 9, 2017