Blue Ribbon K9 - Las Vegas Dog Training
The Humane Dog Trainers Of Las Vegas
Dog Training Courses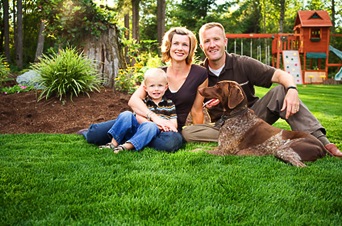 Dog Obedience Training
Because each dog is different we tailor each course to fit each dog.
Las Vegas Dog Training Services
In-Home Evaluation
We offer a free in-home evaluation so that you can determine if we are the right dog trainers for your unique dog.

Private Lessons
We offer several different packages to meet your needs and your budget.

Boarded Training
We offer boarded training for those times when you need your dog training done and you just don't have the time.

Outdoor Group Classes
We offer outdoor group classes for dogs that are in need of moderate training and socialization. Our classes book months in advance so you need to plan accordingly.

New DOG Consultation
We offer assistance in choosing the right dog for your family and we offer assistance helping you to bring your new dog into your home with ease.

Certified Evaluator for the AKC Canine Good Citizen
For those who are in need of service dog training this is the first step. Once your dog is certified as a good citizen you can then move forward with the service dog application.

Puppy Classes
Our puppy classes are unique to dog training classes. These classes book three months in advance so call right when you get your dog to reserve your spot. For more details on how our classes are unique please call.

Behavior Modification
We offer canine aggression behavior modification using positive reinforcement and canine psychology methods. Our trainers specialize in canine aggression and we do not use electric collars or overly harsh methods.

Temperament Testing
We offer temperament testing for dogs you may be considering adding to your family or for future work as a therapy dog, service dog, or protection dog for your family.


Advanced Obedience
We offer advance obedience for those who want a dog to be obedient even off-leash. This course is offered to any dog that has mastered the basics, sit, down, come, stay (for long periods). For more information on our
advance obedience classes click here.
Canine Agression Rehabilitation
We offer unique canine aggression rehabilitation training. Our training methods for dogs that have had a difficult life and are in need of a second chance are different from most other dog training schools because we use wolf pack psychology.

Free training and behavior evaluations!
Blue Ribbon K9, Las Vegas Dog Training Center. We at Blue Ribbon K9 Las Vegas Dog Training offers both in-home - private obedience lessons, and classroom style dog obedience and puppy classes in Las Vegas and Henderson, Nevada.
Site Last Updated: March 9, 2017