Blue Ribbon K9 - Las Vegas Dog Training
The Humane Dog Trainers Of Las Vegas
A Dog Training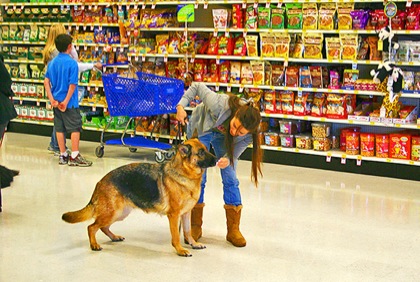 Dog Training Las Vegas
Here are some great dog training tips. Great tips:
As the weather starts heating up please keep in mind some key tips to keep your dog safe and healthy.
1. Use Ice... place a gallon jug of water in the freezer, after it is frozen solid cut the plastic bottle away and put the huge block of ice in their water, just make sure their water bowl is big enough to accommodate.
2. Use Fans... if you are going to the Veterinarian or the groomer remember it may not be cool enough in the car for your dog, even if it feels cool to you, your dog has a fur coat on and he gets hotter faster than you, so use a portable fan and keep the window cracked if they are in the car even for a short period of time, and please never leave them in the car they will quickly overheat and could even die in a matter of minutes.
3. Use a crate with a wet towel or wet blanket that will help them stay cooler on there way to the groomer or Veterinarian.
4. Please let them stay indoors in the summer, its just way to hot out there for them.
See our Dog Training Blog Here
God bless you and your Dog!

Dog trainer Las Vegas
Dog training Las Vegas
Las Vegas Dog Trainer
Las Vegas Dog Training

Las Vegas Dogs Rule!
Blue Ribbon K9, Las Vegas Dog Training Center. We at Blue Ribbon K9 Las Vegas Dog Training offers both in-home - private obedience lessons, and classroom style dog obedience and puppy classes in Las Vegas and Henderson, Nevada.
Site Last Updated: March 9, 2017