Blue Ribbon K9 - Las Vegas Dog Training
The Humane Dog Trainers Of Las Vegas
Dan
Dan has been training dogs since 1989. He is much sought after for his experience in helping people resolve their dog's behavior issues. He currently resides in California where he is a Police Officer. Daniel has trained dogs for several police departments and the Department of Defense, he has helped establish several K9 units. Dan has not only developed effective methods of training but he has mastered the skill of being able to convey this knowledge to others. Dan is also world class reputable dog breeder who continues to provide leadership in the German Shepherd Community. Daniel has a BA in Business and is perusing his Masters Degree at the University of Southern California. Daniel is also the President and Co-founder of Breeders USA. Breeders USA is a family owned business serving the pet community since 1999. Breeders USA is by far the best breeder directory in the United States. Here is their video on You Tube, and here is a link to their site:
http://www.breedersusa.com/
.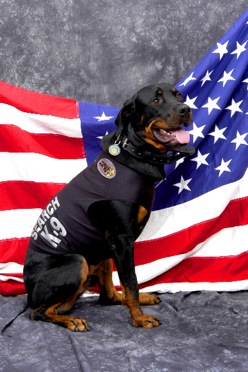 This is a Police Dog that was shot in the line of duty. Blue Ribbon K9's own Dan is the technical advisor for the movie that is coming out soon, we will let you know all the details about the release of the movie as the day draws nearer.
The organization responsible for the movie is K9 Chronicles and here is there website:
http://www.k-9chronicles.com
. Dan has a black belt in martial arts and is extremely patient with the dogs that he has trained. Dan is the our Schutzhund (german for protection dog) training expert. He has been training the top dogs in the country since 1991
Free training and behavior evaluations!
Site Last Updated: March 9, 2017